THT-The Kenyan government has officially named the diplomats who will be in charge of its office in Somaliland.
A statement from the Kenyan Ministry of Foreign Affairs to the Somaliland office in Kenya said they were happy to share the appointments with their Somaliland office.
The Ministry of Foreign Affairs of the Republic of Kenya wishes to inform that four officers were deployed to Kenya Liaison Office in Somaliland as follows;
Benson M. Mwaliko – Head, Liaison Office
Charles K. Waichari –      Second Counsellor
Grace N. Musau         –      Administrative Attaché
Ronald O. Nyakweba- Administrative Attache
Lastly Kenyan Ministry of Foreign Affairs letter was concluded,
"The Ministry of Foreign Affairs of the Republic of the Kenya avails itself of this opportunity to renew to the Liaison Office of Somaliland in Nairobi the assurances of its highest consideration.
The move is part of the implementation of various agreements signed by the presidents of Somaliland and Kenya earlier this year in Kenya.
See below Kenyan Ministry of Foreign Affairs letter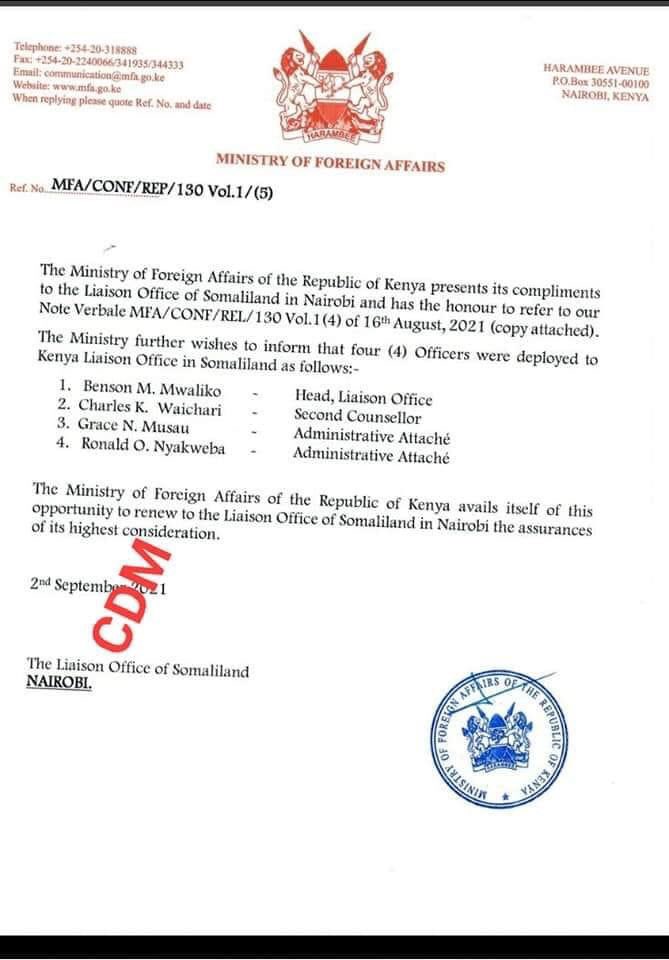 Last week, some media outlets published article on the matter, titled : Kenya Delegation in Hargeisa, Finalize Liaison set up plans-
A delegation from the Kenya Ministry of Foreign Affairs is in the Somaliland capital of Hargeisa to finalise plans to open up a Kenyan consulate in the Horn of Africa nation.
Reports indicate the team has been in Hargeisa over the last fortnight working on the final plans that will see Kenya become only the third African nation after Ethiopia and Djibouti to set up a consulate in Somaliland.
Plans to have a Kenyan consulate in Hargeisa were cemented last December when Somaliland President Muse Bihi made an official visit to Kenya on invitation from President Uhuru Kenyatta.
Source: https://www.somalilandcurrent.com/2021/09/02/kenya-delegation-in-hargeisa-finalise-consulate-set-up-plans/